The Hangover Part III to shoot in Mexico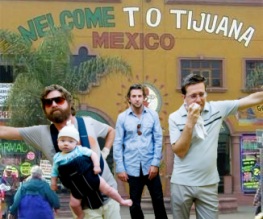 The Wolf Pack will be waking up bleary-eyed in Tijuana for The Hangover Part III.
Word is out that filming for the statistically inevitable threequel will take place south of the border for what will be the final instalment in the series: "A lot of it will be shot in Los Angeles, but then they are going to do the crazy scenes in Las Vegas again and then one wild week in Tijuana," said one anonymous insider.
In keeping with the vibe of a franchise that has never shied away from one-upping itself, writer Craig Mazin has revealed that the final chapter will involve Stu (Ed Helms) and Phil (Bradley Cooper) breaking Alan (Zach Galifianakis) out of a mental institution. The three stars are rumoured to be asking for $15 million apiece for the movie, a reasonable fee for the conclusion to a series that has netted Warner Bros $1 billion worldwide.
Todd Phillips is once more directing, from a screenplay he is co-writing with Mazin. Cooper said back in December that shooting would begin this September, while insiders claim the movie is already in production.
The Hangover Part III is set to hit US cinemas in May 2013. Will you be going?
By Stephen Sumner
About The Author