Fast Girls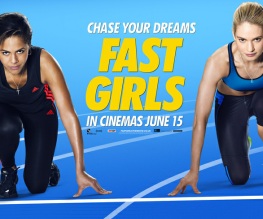 Everybody loves a good sports film, right? Fitness bunnies love them because they're all about their favourite pastimes – getting sweaty, running about, kicking things, you know the drill. Non-sporty types enjoy them because it gives us just enough knowledge to PRETEND we understand the offside rule and the beautiful game. Or, in the case of us here at Best For Film Towers, enough inspiration to join a dodgeball team (thanks for that, Ben Stiller!). Fast Girls, just like Wimbledon, Dodgeball and Bend It Like Beckham before it, plays on the natural drama that stems from any high-profile sporting event, tosses in a few character clashes and VOILA! Movie made.
Oh. You really want me to explain the story of how an orphaned girl from the wrong side of the tracks (ha!) joins an Olympic standard all-woman relay team? Fine. Being Human star Lenora Crichlow is Shania Andrews, a lightning-fast runner who, with the help of corner shop owner Brian (Davis), manages to wow talent scouts and get invited to join Team GB for the World Athletics Championships 2011. (Yeah, they WOULD have said the London Olympics 2012 but… you know. Copyright restrictions can be such a bitch.) The girl is a solo runner; she's talented, she's speedy and she's got a helluva attitude to boot. But that doesn't stop trainer Tommy (Clarke) from asking her to join the womens relay team as a sort of back-up baby, should she lose out on her own big race. "I don't do teams," she replies, tossing her ponytail over her shoulder. Fair enough – most canny sports coaches would back the fuck off at that point and let the little miseryguts carry on with whatever she's up to.
But Tommy is relentless and, soon enough, Shania finds herself making nice with her brand-new teammates. Fancy meeting some sports drama stereotypes? We've got Trix (Burroughs), the older and wiser sprinter, who only has ONE MORE CHANCE to get that gold medal. Then there's mohawked Sarah (Dominique Tipper), who doesn't really have much of her own story arc going on but, you know, she has a funky hairstyle. Man-crazy Belle (Lashana Lynch) is on hand to give us some laughs, a la Samantha in Sex And The City. And, finally, there's the ridiculously rich white girl Lisa (James) who, surprisingly, clashes with estate-born Shania. SO MUCH FRICTION! Thank goodness that Lisa's over-controlling father (Graves) – a former WAC gold medal winner – isn't involved in the team selecti… oh.
It's that bubbling competitiveness and class tension between our two female leads that keeps this film ticking along nicely, right up until the Olympics… ahem, I mean World Championship arrives. Will these girls ever get along? Can they ever work together and get their relay team running as smooth as silk? Will they win the gold medal? WILL THEY?!
Probably. I mean, it really is a sports film, through and through. If you cut it in half, you'd find almost the exact same plot as Wimbledon, just with slightly different characters. And less tennis. So it doesn't take a former Olympian to figure out where Fast Girls is running to – you've got your montages, your training sequences, your catfights, your unexpected friendship and your winning against all odds to look forward to. There's even a dash of inexplicable romance thrown in midway when Shania spots semi-attractive physiotherapist Carl (James). In the midst of giving our girl a rubdown and telling her all about the knee injury that stopped his own sports career from taking off, the pair fall in love / lust… but can their relationship ever work? Or will it, as Shania has been warned, result in her immediate disqualification from the team?
As I said, it's predictable. As with any sports drama plot, the film is far more formulaic than the sports represented within – but that doesn't make it anything less than entertaining! Whether you find yourself laughing at Belle's quips and one-liners – she's gonna climb that hot physio like a tree! – getting caught up in all the tension of the race or just enjoying watching the class boundaries come down, Berlin Wall style, there's bound to be SOMETHING here you'll enjoy. And so what if it's not set to become an instant classic? So what? We don't NEED it to be an instant classic, we need it to be what it is; a well-timed sports film that's going to drum up some serious London 2012 enthusiasm. Boris Johnson is going to LOVE this even more than he loves his shitty blue bicycles…
About The Author