Anton Yelchin joins Only Lovers Left Alive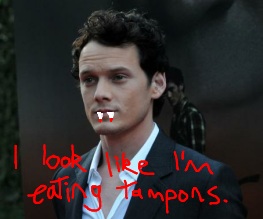 Sadly, in this post-Twilight world the once glorious image of the sleek, impossibly cool vampire has been cheapened, fetishized and hysterically sellotaped to the walls of teenage bedrooms. Yet if anyone can be trusted with the task of making vampires cool again, surely it is Jim Jarmusch. The cheeky uncle of indie cinema who once declared, "I belong in the margins", seems a fitting choice to helm Only Lovers Left Alive, a story about one of the most marginalised groups of society: the undead.
The latest addition to Jarmusch's cast, Anton Yelchin, who possesses both translucent skin and youthful features, is an ideal casting choice. The 23-year-old has been performing since his early teens, but is most recently recognisable from roles in Terminator Salvation, Fright Night and Mel Gibson's The Beaver.
Yelchin joins a slated cast of Tilda Swinton (a Jarmusch darling who has previously appeared in Broken Flowers and Limits of Control), Mia Wasikowska (Jane Eyre) the legendary John Hurt (we've met him, IN YOUR FACE) and Tom Hiddleston (The Avengers); all actors overflowing with vampiric potential.
Speculation surrounds the casting of the vampire lovers at the heart of the film, and there is currently no mention of Yelchin's role. But with his boyish charm, graceful genetics (he is son to a pair of Russian figure-skaters) and deceptively rocking body, here's hoping Jarmusch has offered Yelchin a part that he can wholeheartedly grab by the scruff of the neck.
By Kimberley Thomson
About The Author