The Hobbit gets one last (we hope) clip before general release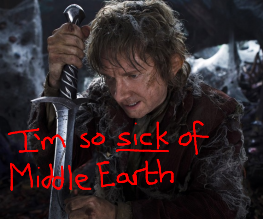 The Hobbit: An Unexpected Journey is almost upon us, like a face-hugger from Alien, and we can't resist throwing one last clip of singing dwarves in your face before The Hobbit lays a cock-faced monster in your belly. What were we talking about? Oh, yes, dragons and stuff. You might be utterly sick of The Hobbit before it's even come out, but this clip is rather enjoyable. Give it a go!
Need we even explain anything about this clip from The Hobbit? This film has reached such saturation point that people are already moving on to speculating about The Hobbit: The Desolation of Smaug and The Hobbit: There and Back Again. An Unexpected Journey is old hat, dear boy. It's all about Benedict Cumberbatch now, don't you know? My, you are behind the times, aren't you? Fetch me my traveling cloak at once, boy! The Misty Mountains call!
The Hobbit: An Unexpected Journey is out on 13th December 2012, which is tomorrow if you haven't realised, in UK cinemas. We hope you've booked.
The Hobbit is almost upon us! Have you got your tickets for tomorrow night?
About The Author