The Hobbit keeps trolls at bay with witty one-liner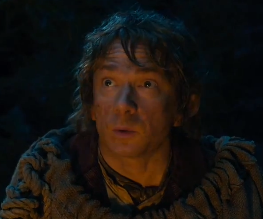 Now that Skyfall is all released and earning accolades (and cash) galore, the focus on The Hobbit can get into full swing. The latest TV spot hasn't got too much new to it, but it does feature a couple of flashes from a scene featuring some trolls, who are considering whether or not to consume the flesh of Martin Freeman. It's rather short, but it's still very thrilling. Much like Bilbo.
Whilst most other TV spots featuring 1.5 seconds of new footage wouldn't raise an eyebrow, The Hobbit is something of an exception here at Best For Film. Hopefully The Hobbit doesn't pull a classic Sean Bean Double Cross on us, and lives up to expectations when it lands in cinemas 14th December 2012.
Other than the trolls (who look far superior to the shoddy Harry Potter and the Philosopher's Stone toilet invader), the new TV spot for The Hobbit features Ian McKellen trying his best chat-up line on Bilbo, the usual array of dwarfs and, of course, some obligatory shots of the lovely New Zealand landscape.
What do you think of the new The Hobbit TV spot? Enough trolls for you? Can The Hobbit possibly live up to all the hype?
About The Author