Skyfall soars with record-breaking opening weekend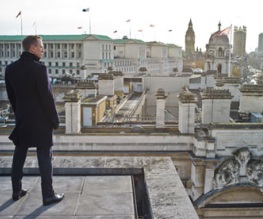 Skyfall unsurprisingly muscled its way to the top of the box-office this weekend, with an impressive $77.7m internationally, $32.4m of that from the UK. It also broke a couple of records along the way, including biggest opening for a non-3D film and highest-ever attendance on a Saturday in the UK. That the new Bond is such a delight for stoners has surprised many box-office analysts. Ahem.
Recent outings saw Casino Royale rake in $40m and Quantum of Solace land $67m. When Skyfall hits US shores next week, expect its overall take to supernova. Critical praise has ranged from enthusiastic to ecstatic to 'Best Bond Ever' to 'Single finest artistic expression in any medium since the renaissance', all encouragement that should see Skyfall sitting pretty at the top for a while.
Sam Mendes has said he isn't sure if he will direct another Bond, musing: "Do I want to do another one? I'm a shadow of my former self! No, I don't know. I felt like everything I wanted to do with a Bond movie, I put into this film." (He might just be sulking because we got the drop on his big twist, of course.) Still, given the choice between Mendes having carte blanche on the set of one of the most beloved series of all time or helming another beige-tinted chronicle of suburban ennui, we know what we'd rather see him do.
Watch out for Best For Film's Skyfall review this week!
About The Author