Ben Kingsley's Mandarin recharges Iron Man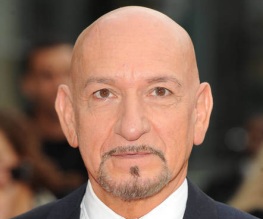 Ben Kingsley made his debut as the big villain in Iron Man 3 the other day, when the first trailer was released, and now Marvel president Kevin Feige is singing his praises.
According to Feige, when director Shane Black yelled "Cut!" for the final time on Ben Kingsley's last day of filming, the entire cast and crew burst out in spontaneous applause, cheering, whooping and hollering, and offering to sacrifice their first born children in honour of Ben Kingsley's monumental performance as one of Iron Man's most fearsome foes. Not only was the applause spearheaded by Tony Stark himself in Robert Downey Jr., but Feige has gone so far as to suggest that Kingsley's work has reignited the entire franchise from the enduring hangover of that time Stark got drunk and DJ'd.
"That's what you get when you hire Sir Ben Kingsley. He's so excited about his part and so into this character, and frankly just scaring the heck out of everybody," Feige enthuses. "They're like, 'You've broken us out of our sceptical malaise!'"
Well, there you have it. Ben Kingsley's Mandarin will change your life. You can take a look at his first appearance in the trailer here. But you'll have to wait until the film is released in the UK on April 26th 2013 to find out if Ben Kingsley's performance can live up to the hype.
Are you excited for The Mandarin? Let us know below.
About The Author