The Hobbit: The Desolation of Smaug debuts new banners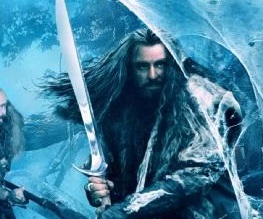 Time to get excited people! Peter Jackson's follow up to The Lord of the Rings trilogy, the strangely 3 staged Hobbit series, is launching its hype campaign. Last December we saw the first instalment, The Hobbit: An Unexpected Journey, take us back to Middle Earth and Bilbo Baggins (taken over here by Martin Freeman), who struck out on the adventure that would lead him to the discovery of the One Ring.
Its sequel, entitled The Desolation of Smaug, continues on with the initial mission, which sees Thorin Oakenshield (Richard Armitage) and his merry band of Dwarves getting closer to the recovery of their lost Kingdom of Erebor from the devious and treacherous dragon Smaug, who has seized it.
In preparation for its December 13th release, we are now privy to 3 (anyone seeing a pattern here?) new banners highlighting characters, both old and new. The first features Bilbo as he leads his compatriots through a rather spooky looking forest, dodging swathes of spider webs as they go. Next up is our introduction to the Elvenking Thranduil (brought to life by Lee Pace), looking quite regal and otherworldly within his cavernous adobe, before moving on to our first peek of Bard the Bowman (played by Luke Evans) in mid-violent-action, complete with Stephen Fry in the background.
Just one look at the cast will leave you feeling starstruck. Along with the usually suspects we've come to expect, The Hobbit: The Desolation of Smaug will see the return of Orlando Bloom and Hugo Weaving as well as newbies Evangeline Lilly, Billy Connolly and Stephen Fry with Benedict Cumberbatch humbly lending his voice to both Smaug and The Necromancer (aka SAURON). Now, we may be counting our chickens a little early, but all the same we're pretty happy predicting a very jolly season to come.
About The Author