The Little Mermaid to be re-vamped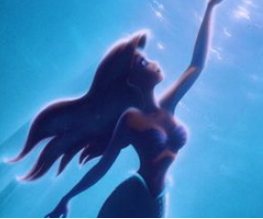 Disney were fairly keen on lightening up the original Little Mermaid story (let's just say in the original Hans CA tale, she turns into grief-based-foam at the end, CUE MUSICAL NUMBER), but now it seems the world is hankering for a darker tale. But rather than spin the tale as it was first told, it looks like Sony are looking for a different take on the classic tale altogether….
A new film entitled Mermaid , derived from Carolyn Turgeon's novel Mermaid: A Twist on the Classic Tale, will tell the story from the perspective of a downtrodden princess; one who hatches a scheme to marry the prince of her rival kingdom, thereby saving her people. The only problem, as she discovers, is that the prince's heart belongs to a beautiful sea creature who has sacrificed everything so that they can be together…
Yes, you're right, that does sound exactly like Wicked's take on The Wizard Of Oz. But hey, Wicked is making HELLA DOLLAR at the moment, so it does make sense for the big boys at Sony to copy/paste and hope for similar success. What do you reckon? Does it sound like an idea that has legs – er – fins?
About The Author