The Master's new trailer looks AMAZING.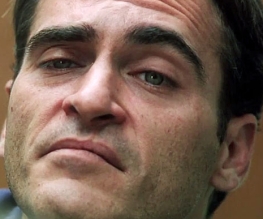 The promotional machine is greasing its wheels for Paul Thomas Anderson's latest offering, The Master, in which Philip Seymour Hoffman plays a charismatic cleric who takes in professional drunk Joaquin Phoenix; who we're just going to go ahead now and predict bangs his terribly prim wife, the exquisite Amy Adams – you heard it here first, betting pool details to follow.
The trailer's as gorgeous as the poster, with a Mad Men-esque colour palette and Phoenix (Gladiator) seemingly back to his loose, hyper-masculine best we last saw in 2005's Walk the Line. The trailer reveals that Phoenix is a predictably fucked up WWII veteran, and thus hugely vulnerable to a man who proclaims himself a "writer, doctor, nuclear physicist and theoretical philosopher". That sounds way worse than "tinker, tailor, soldier, spy", and that badman is Gary Oldman. Jesse Plemons (Friday Night Lights) rounds out the core cast, and has managed to look and move uncannily like his on-screen father, ironic when he seems like the only voice of reason.
Though we're sure it's Phoenix who will get all the attention and arse-kissing and secret drug tests come release time in the autumn, it's Hoffman who's gunning for that little gold man; hugely unsettling and totally hypnotic in equal measures, he's hard to look away from.
Also, that's a pint of gin there, Joaquin – steady on, no one wants the world's longest Movember back.
Release date for The Master is set for autumn 2012.
About The Author