The Who documentary is first film in Sundance London lineup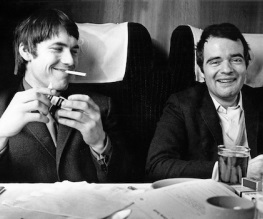 Mods unite! Lambert and Stamp, a documentary about the mismatched pair of pals who became the "fifth and sixth members of The Who" when they managed the then-obscure rock band to global stardom, has been announced as a late addition to the programmes of this year's Sundance Film Festival – and the first film to officially grace the bill of the third Sundance London event.
Kit Lambert and Chris Stamp were underground filmmakers planning a documentary about the next big thing. When they came across the High Numbers playing in a North London pub, Lambert (the son of composer Constant Lambert) and Stamp (brother of Terence) knew they'd found something special. Outwitting the band's then-manager and restoring their original name, The Who, Lambert and Stamp were responsible for the mod image and raucous Motown covers that formed an intrinsic part of the band's unique style. They went on to produce Jimi Hendrix' first album, Are You Experienced, before eventually falling victim to drink and drugs and parting ways with their acts. Lambert, dogged by legal troubles, died in 1981 whilst working on a book about his experiences with everyone from the Beatles to Princess Margaret; Stamp, who moved to America and became a therapist, outlived his former partner by more than 30 years but eventually died in 2012.
We're enormously excited to see James D. Cooper's documentary Lambert and Stamp – in many ways, the film that they themselves never got round to making. The film will receive its world premiere in Utah at Sundance's 30th anniversary festival, which begins next week, and its UK premiere at Sundance London this April.
About The Author