RIP Theo Angelopolous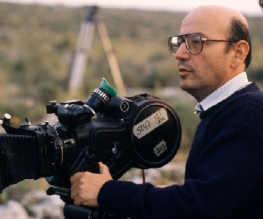 The great Greek filmmaker Theodoros Angelopoulos was tragically killed yesterday, aged 76. He was crossing a road near the set where he was filming his latest movie, The Other Sea, when he was hit by a motorcycle. He was admitted to hospital with severe head injuries, and sadly didn't make it through the night.
Though perhaps not as widely known as the likes of Kiezlowski and Bergman, Angelopoulos was held by many in the same regard, and was rewarded handsomely by the likes of the Cannes, Venice and Berlin film festivals throughout his forty seven-year career. He was known for his slow, meditative style, the dreamlike quality of his films, and his utterly uncompromising nature. In an article for The Guardian, Derek Malcolm described him as 'unquestionably a master', and his work as 'as formidably intellectual as it is emotional and poetic.' Of his 2005 film The Weeping Meadow, TV Guide said 'You'd be forgiven for thinking you're watching the most beautiful movie ever made.'
Rumours that he will be replaced by CGI for the rest of the shoot remain unconfirmed.
RIP Theodoros Angelopoulos
1935-2012
About The Author