Thor To Star Everyone In Hollywood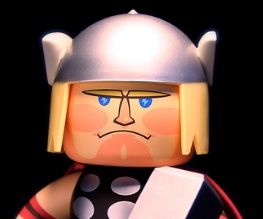 Well, pretty much. Lately, it seems like you can't go two minutes without some Hollywood star-or-other announcing they're set to appear in Thor, the upcoming film of the popular Marvel strip. With so many names being bandied about we thought it was high time someone sat down and collated all the info together. Yes, we're dedicated here to the most concise and correlated news stories. Also, we're mildly autistic.
OK, so here goes. The latest munchkin to join up to director Kenneth Branagh's ever-increasing list is mmmmmmmm… Kat Dennings (she's hot), though we've no idea who she's playing. Then there's Natalie Portman as Jane Foster (a nurse), Samuel L. Jackson as Nick Fury, Anthony Hopkins as Odin (who – grumble grumble – ousted both Brian Blessed and Brian Blessed's beard from the role) and former Summer Bay resident Chris Hemsworth as Thor hisself.
Support-wise, the ever faithful Warriors Three (that's Fandral, Hogun and Volstagg – not that you need telling that, of course) will be played by Stuart Townsend, Tadanobu Asano and Ray Stevenson respectively. Supervillain and main bad guy Loki will be played by Tom Hiddleston, a previous Branagh collaborator.
But it's not only casting for Thor, it seems. Taking a cue from their printed inspiration, we're potentially looking at some cinematic Marvel mashups in the near future – namely an Avengers film. Already lined up for the superhero supergroup are Robert Downey Jnr. reprising his role as Iron Man, Chris Hemsworth as Thor, Samuel L. Jackson's Nick fury and – potentially – Edward Norton, returning to his role as 2008's Incredible Hulk. Wouldn't like to be the chap who has to decide whose name is going top of that particular poster…
About The Author