Three Men And… another sequel?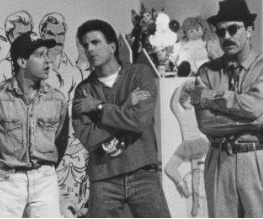 We have to say, this is one piece of news we didn't see coming. Tom Selleck – our favourite moustache with a man attached – has today confirmed that he's tentatively signed on to a sequel to the 1990 classic Three Men And A Little Lady (itself a sequel to Three Men And A Baby), entitled Three Men And A Bride. Really? Really though?
When asked about the possibility of a second sequel, Selleck recently said: "It is true that Disney checked my availability. And I know they checked Ted's and Steve's, and then had a script written, I think tentatively called Three Men And A Bride, which kind of says it all."
Now, we loved the Danson, Selleck and… the other one… team as much as anyone else. But do we really need a Three Men sequel twenty years down the line? Is this a joyous return to a much treasured franchise, or just another case of milking a frail old cash cow for the remaining drops? Only time will tell, we suppose. But at least this time around, Danson won't need a plasticine mask to play a withering old man…
Three Men And A Shameless Cash Ploy? What do you reckon?
About The Author