Tim Burton working with writers of Ed Wood for The Addams Family and Big Eyes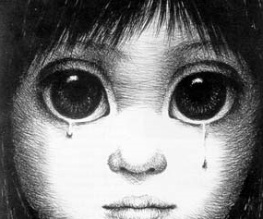 Yes – two new Tim Burton films (one produced, one directed) are set to come our way. Oh, jollity-dee-lah! Big Eyes (a hugely dramatic biopic of Margaret Keane, quirky painter of big-eyed children) has been all written up and tied with a big red bow, ready to send to the filming studios. The Addams Family (based on the original darksome Charles Addams classic cartoons) still nestles in Tim Burton's mind as we speak, curled like a hairless baby ferret. Or a foetal Uncle Fester, perhaps.
The real story is that – after a few dismally dreary Burton box office successes – Tim Burton has picked writers with such a credible screenwriting history that The Addams Family and Big Eyes look set to provide us with some old-fashioned Tim Burton magic.
It's been a while since Burton held our hand and took us on a genuine adventure. Remember when Tim Burton and Johnny Depp used to work together to make good movies? Before the Keith Richards impressions and the raccoon eyes? Before the 3D mushrooms and Oompa Loompas? We have been invited to a non-saccharine Wonderland once more. One that takes our hand, opens our eyes wide and doesn't make our teeth hurt.
Tim Burton is pleased to announce that the writers handling The Addams Family and Big Eyes will be the same fine guys who co-wrote Ed Wood. Do you recall this lustrous biopic? One's of Tim Burton's finest and most underrated films, it paid elegantly chaotic tribute to the notorious film maker credited for making the worst movie ever made (Plan 9 from Outer Space). As the biopic shows, Ed Wood was also a crazy crackerjack who nursed a lifelong cross-dressing penchant for fluffy angora. It sounds a heady mix which if mishandled could stray into the fearful territories of 'zany', but the Ed Wood script did the concept justice. It's worth noting that the writing team on Ed Wood (Scott Alexander and Larry Karaszewski) were also behind the scripts for Man on the Moon and The People vs Larry Flynt – scripts with vision, passion and something to say.
The Addams Family – the Tim Burton version of the film
The Tim Burton version of the Addams Family will be a stop-motion film, tapping into the dark roots of the original comics by Charles Addams.
Larry Karaszewski had this to say about working with Burton again about The Addams Family: "Tim's own artwork showed how much of an influence Charles Addams was to him. We want the tone to be as darkly funny and subversive as the Addams drawings, and we've come up with an approach that nobody has ever done before."
Big Eyes
Big Eyes will be a fact-based drama about artist Margaret Keane's struggle to get due credit for the line of paintings of big-eyed children that became wildly popular in the 60's. It's the brainchild of Alexander and Karaszewski, who had originally intended to direct themselves before the indie market changed and Burton stepped in to rescue the project.
Margaret Keane sounds the perfect muse for a Tim Burton vehicle. Her talent lay in the painting of most peculiar paintings of big-eyed kids. Her husband mass produced prints of her paintings with his signature at the bottom of them. His deception led to marriage upheaval, and court cases, and Keane being labelled crazy by her own husband. The reality itself feels like a film, for the case was brought to a close when the court judge placed an easel before man and wife and ordered that they both started painting…
Alexander said of the Big Eyes movie: "[Burton is] a big fan of Margaret and has commissioned artwork from her. We thought the movie would have been made by now, but just when we were ready to go 18 months ago, the indie market fell apart… The smartest thing we did was to hang on to the script and not sell it. That has allowed us to set the reset button with Tim, and having him helps a tremendous amount with the way the independent film world is right now."
Burton is only scheduled to produce Big Eyes but on The Addams Family he's set to direct.
About The Author