Titanic Actress Gloria Stuart dies at 100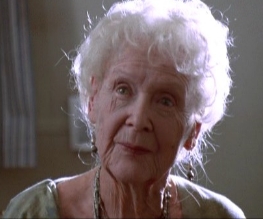 You'll probably remember Gloria as, in the words of Britney Spears, "The old lady who dropped [the necklace] into the ocean in the end". But, Gloria Stuart was much more than a mere mention in Oops, I did it Again. Actress of the golden era, Gloria was a bit of a fox. But, sadly on Sunday night, the lady who played Kate Winslet's older self, Rose in Titanic, passed away from respiratory failure at the grand old age of 100.
As a young, blonde bombshell, Gloria starred in B movies, as well as bigger pictures such as The Invisible Man and two Shirley Temple films before retiring in the mid 1940s. But it was her 1997 performance in James Cameron's epic picture that brought her back onto our screens. Chosen by Cameron in her mid-80s becasue she was "still viable, not alcoholic, rheumatic or falling down", Gloria had to spend hours being made to look older! I wonder about her secret. Oil of Olay?
So, whilst we all remember her as "Old Rose" in Titanic, there is no doubt that this lady blossomed with life. And her ship may have sailed, but it most certainly never sank.
Ok, that's enough Titanic metaphors for now.
About The Author