Tom Hardy's missus joins Cruise for All You Need Is Kill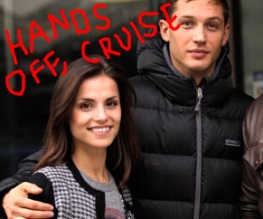 Charlotte Riley, star of ITV's recent Wuthering Heights adaptation and wifey-to-be of Tom Hardy, is set to appear alongside Tom Cruise in the upcoming sci-fi thriller All You Need Is Kill. Directed by Doug "The Bourne Identity" Liman, the film is based upon a graphic novel by Hiroshi Sakurazaka, and tells the story of a soldier caught up in an alien war who finds himself trapped in a time loop in which he has to relive his death over and over again. So it's Source Code meets John Carter, maybe? We can probs get on board with that.
Riley will apparently be playing a fellow soldier which we can see working following her tough, passionate performance as Emily Brontë's famed heroine Cathy Earnshaw. All she has to watch out for now is that Tom Cruise. After all, he's newly single and we've heard he gets a little handsy after a glass and a half of white wine. Better watch your back, Cruise. Tom Hardy is very large.
About The Author