Tommy Lee Jones is onboard for MiB 3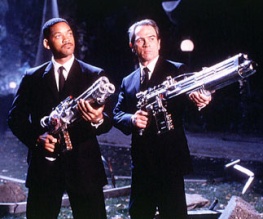 After months of speculation, it has been confirmed that Tommy Lee Jones will be appearing as Agent K in the third Men in Black film, due for release in 2012.
Suspicion was rife that Josh Brolin's character, a newcomer to the hugely successful franchise, would be replacing Jones and playing a younger version of K as part of a time travel plot arc. But Brolin, who has recently gained notoriety for claiming that Megan Fox is the new Katharine Hepburn, has scotched the rumours.
Much of the film will take place in 1969 with Brolin playing the younger K alongside Will Smith's original-timeline Agent J, but it is not yet clear whether Tommy Lee Jones will appear in a minor role or risk disrupting the space-time continuum by protecting the earth against the scum of the universe alongside his junior self. AND it's all going to be in 3D. This could be more confusing than the time we watched all three Back to the Future films one after the other and then became convinced that Best For Film had emerged from a parallel dimension…
About The Author