Top Gun takes in $1.9m in 3D IMAX re-release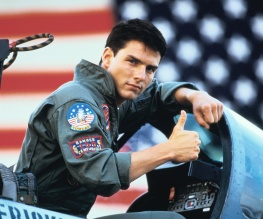 Top Gun, the 1986 classic with Tom Cruise, has taken $1.9 million at the U.S box office with its re-release. Paramount have capitalized on the film by converting it into 3D and IMAX and releasing it in cinemas for just six days. The theatrical release has been to promote the film ahead of its release on 3D Blu-Ray on February 19. Top Gun was re-mastered under the supervision of its director, Tony Scott, who killed himself last summer.
The story of a group of pilots competing to be the best in their class became an instant classic, earning a worldwide box office revenue of $350 million on its initial release. Although Tom Cruise has starred in four Mission: Impossible films (with a fifth on the way) and not forgetting recently, Jack Reacher, he is still best known for his role as Maverick, the naval officer. The film also stars Val Kilmer, Kelly McGillis, Anthony Edwards and Meg Ryan.
The film's 3D box office success may be down to the public outcry when Tony Scott died. Before his death, Scott had reportedly been scouting for locations to shoot planned sequel Top Gun 2. That project has now been put on hold, although Christopher McQuarrie has written the screenplay.
Will you be buying Top Gun on 3D Blu-Ray when it is released? Let us know.
About The Author