Triple threat George Clooney to make himself another film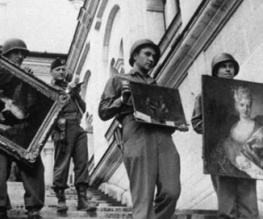 Fresh from making slightly turgid political thriller The Ides of March, George Clooney and his producing partner Grant Heslov are to start work on another politically-oriented film – about stolen Nazi art.
The Monuments Men, based on the book of the same name by Robert M. Edsel, will tell the true story of a handpicked group of museum directors, curators, and art historians sent to retrieve art treasures appropriated by the Germans during WWII. Set between D-Day and VE Day, the book explains how the frequently unarmed art experts risked life and limb behind enemy lines to negate the impact of Hitler's cultural blitzkrieg.
Clooney will direct, star, co-write (alongside Heslov) and also write and sing the feem toon, because God knows we might forget what he looks like if he ever gets out of our faces for five minutes. "I'm not opposed to doing a commercial film," said Clooney, "I'm just opposed to doing a commercial film that doesn't feel organic to me. So if [Heslov and I are] going to do a commercial film we thought, 'Let's do something that seems fun and actually have something to say.'"
We're quite interested in this, although it's worth bearing in mind that Clooney and Heslov were also responsible for the almost unbearable The Men Who Stare at Goats. Let's hope the Nazis prove less challenging…
Which artistic treasure would you most like to wrest from Hitler's paws? Let us know below!
About The Author