Will Tim Burton and Robert Downey Jr team up for Pinocchio?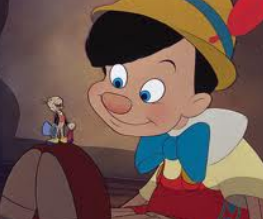 Apparently this one has been in the works for a while, but everyone's been trying to ignore it. Bodes well. Back in 2010 we learnt that Pushing Daisies writer Bryan Fuller had been hired to write the script for a live-action version of Pinocchio after being "inspired" by Tim Burton's beige-fest Alice In Wonderland. Well, flattery must get you everywhere, as it's looking more and more likely that Burton will direct the adaptation, and apparently wants Robert Downey Jr as the lead Geppetto. By process of elimination, that leaves either Jiminey Cricket or the nose-truther himself for Johnny Depp.
Robert DJ and Timmy B are pretty busy at the moment though, and considering the time that's already lapsed between this idea's conception and now, we have to say it doesn't seem like anyone is foaming with creative froth. Burton is currently finishing up with Dark Shadows, and there's whispers that he's going to leap straight into a film called Miss Peregrine's Home for Peculiar Children . Peculiar? Children? How un-Burton.
As for Robert Downey Jr, he's got another Sherlock Holmes film to prepare for, as well as ensuring everything is signed off on this year's Avengers. I suppose the question is, is this a film we'd be interested in seeing? And could any filmmaker really do any justice to Disney's infamous transformation scene…
Helena Bonham Carter as Donkey-Boy? Just saying…
About The Author