Vanessa Hudgens to pop her Cherry in Machete Kills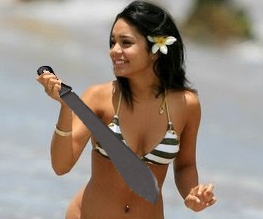 Tit-exhibitor and sometime actress Vanessa Hudgens is the latest implausible nutter to be cast in Robert Rodriguez' Machete Kills, following the increasingly mad news that Lady Gaga and Charlie Sheen and Mel Gibson are joining Danny Trejo and co in the Mexplo sequel.
High School Musical star Hudgens took to her website (what do you mean you've never, EVER been to it before?) to confirm that she will be taking the role of Cereza. That's Spanish for Cherry, which explains the nonsensical virginity loss joke in the title of this article. As if she needs any help with that, eh Zefron? If those basketball shorts could talk…
Oh god. Is this even news? Beats writing about K-Sket shagging around, we suppose.
Do you like Vanessa Hudgens? Why?
About The Author