Vibrator-comedy Hysteria trailer now online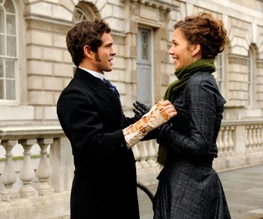 In the late 19th century, a doctor by the name of Joseph Mortimer Granville invented an electrical device that he claimed cured women of what was known at the time as "female hysteria". Oh he cured them alright – cured them all night long. Want to watch a film that is the visual equivalent of that sentence? HURRAH!
Take a look at the trailer for Hysteria below- – it opens in the UK later this year. And, ahem, maybe stick your headphones in.
Maggie Gyllenhaal, Sheridan Smith, Rupert Everett, Hugh Dancy, a life-changing feather duster – there's literally nothing not to like about this set-up. Yes it's sure to take historical fact and run naked down the street with it, but heck, it's a Victorian vibrator comedy – what exactly are you looking for?
About The Author