We Bought A Zoo First Trailer Released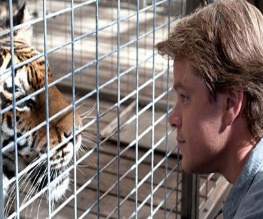 Here we are, the first trailer for We Bought a Zoo, the latest Cameron Crowe something-for-everyone Christmas movie. The film, starring Matt Damon, Scarlett Johansson and Elle Fanning (yep, just when you were mourning Dakota's foray into adulthood, along comes her adorable lisping sister) focuses on widower Benjamin (Damon) who decides on a whim to… uhm, buy a zoo.
Yes, it looks schmaltzy and overly-sentimental, but isn't that the point of family Christmas movies? We can try to be cynical about this, or we can embrace it, go see it with our mums and openly weep at the unspeakable beauty of a man who loves his children and likes his animals.
To be honest, we kind of love this movie already based on the title. It reminds us of a simpler time, when movie titles were woefully direct and called things like The Man Who Shot Liberty Valance or Paint Your Wagon. Nowadays film titles are just vague clumps of words, and we're a little sick of it. Bring forth the blunt movie title renaissance! First We Bought a Zoo, next We Hate Our Zoo, and then maybe We've Sold Our Zoo.
Would you like to own a zoo? I would.
About The Author