Weird Science remake planned by Universal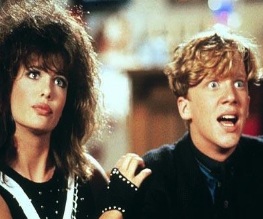 Universal Pictures woke up this morning and decided to remake Weird Science. For those not in the know, it's that old John Hughes comedy from the 80s and will be produced by Joel Silver. Although Silver is from Silver Pictures who produced the original with Hughes, this doesn't make up for the fact that this is a lame idea. 21 Jump Street writer Michael Bacall will be coming up with the script.
The original Weird Science saw two teenage geeks create their perfect woman, whom they name Lisa. Kelly LeBrock played the fantasy creation, while Michael Anthony Hall, Ilan Mitchell-Smith, Bill Paxton and Robert Downey Jr also starred. The film also launched a TV series that ran between 1994 and 1998. There's no word on the cast yet, but we'd happily bet that Megan Fox could be cast as Lisa. Or, Kelly Brook if they really want to piss us off.
About The Author