Wikileaks film lines up Laura Linney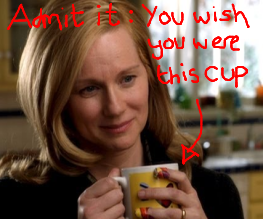 WikiLeaks has destroyed the world with its evil liberal agenda and, as such, it's getting a film. Confirmed to play Australian pervert Julian Assange is Benedict Cumberbatch, who will bring his curiously stretched visage to the WikiLeaks founder. Joining him will be the wonderfully talented Laura Linney, although there's no word as to what role she will be playing in the WikiLeaks debacle.
The WikiLeaks film (currently untitled) will be based on two books; Inside WikiLeaks: My Time with Julian Assange At The World's Most Dangerous Website (by Daniel Domscheit-Berg) and WikiLeaks: Inside Julian Assange's War On Secrecy (by David Leigh and Luke Harding, both reporters for The Guardian). It sounds as though the focus of the story will be on the founding of WikiLeaks and the subsequent leakage of all those juicy state secrets. It would be fascinating if the film tackled the accusations of sexual assault that Julian Assange is currently dismissing as politically motivated, as he hides beneath a table in the Ecuadorian embassy.
Also in the WikiLeaks stew pot is a possible James McAvoy, who has been in talks to play Daniel Domscheit-Berg, who dramatically left WikiLeaks after publicly denouncing Julian Assange as a complete dick. James McAvoy would be an excellent foil for Benedict Cumberbatch, and we look forward to the battle of wits that will undoubtedly ensue. Give us WikiLeaks: The Movie!
What role do you think Laura Linney will play in the WikiLeaks film? Our bet is Theresa May. A sexy, sexy Theresa May.
About The Author