Will Anne Hathaway join the cast of Les Mis?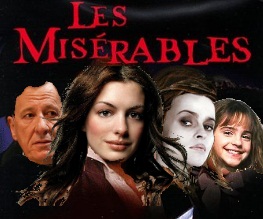 So it would seem that everybody who's anybody (and I mean that in the loosest possible sense of the term) wants a role in Tom Hooper's new imagining of Les Miserables. Including, but not exclusive to, the following: Anne Hathaway, Hayden Panettierre, Emma Watson, Amy Adams, Helena Bonham Carter, Russell Crowe, Geoffrey Rush, Rebecca Hall, Miranda Cosgrove and (pauses for breath) Lucy Hale.
Wow. Just wow, right? I mean, did we all just see who Hugh Jackman personally recommended for the role of Fantine? Anne Hathaway, that's who. Anne Hathaway, whose debut to public singing was at the Oscars in 2009…
It's just awful, isn't it? We're actually more excited for Amy Adams to take on the role. We know she's an excellent dramatic actress, thanks to her wonderful performance in The Fighter, and we even know that she can sing, thanks to Enchanted. Pretty much ideal, really.
We've got nothing against Russell and Geoffrey leaping into the fray, nor Helena Bonham Carter, who is, let's face it, a complete and utter legend. Remember Sweeney Todd? She gave us some 'interesting' vocal exercises in that. But Emma Watson? There's no magic in this film Emma, nor the need to furrow your brow constantly and refer to a large book. I guess we'll just have to play the waiting game…
About The Author