Will Helen Mirren join Gervasi's Hitchcock biopic?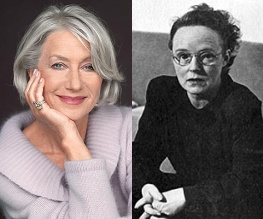 Rumour has it that Helen Mirren could be joining the cast of Alfred Hitchcock and the Making of Psycho, the long-delayed biographical film which will star Anthony Hopkins as the legendary director.
Anvil! director Sacha Gervasi is currently at the helm of the project, which has been flopping around at Paramount for the last four years but has recently been taken over by Fox Searchlight. Alfred Hitchcock…, which is based on a non-fiction book of the same name by Stephen Rebello, will explore the unusual and fascinating context of Psycho – very much a departure from classy horrors like Vertigo, making such a 'trashy' film was a calculated experiment by Hitchcock and one which evidently paid off.
If she commits to the project, Mirren will play Hitchcock's wife and right hand woman Alma Reville. Reville, a talented writer and editor with a sharp ear for dialogue, worked with Hitchcock on more than twenty of his films – she was renowned for having a superior grasp of continuity to Hitchcock's, and famously noticed Janet Leigh swallowing after she was ostensibly dead in Psycho. The scene was recut.
Gervasi has already proved himself as a documentarian, and this project seems like an ideal stepping stone into straight direction for him. Black Swan co-writer John McLaughlin is tackling the script. And who can argue with a Hopkins/Mirren collaboration at the top of the bill? We're totally psyched.
VIOLIN! VIOLIN! VIOLIN! What do you make of this news?
About The Author