Will James McAvoy be Elton John?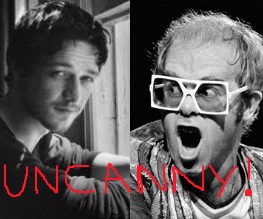 Remember we told you that Elton John was producing a biopic about his own life? The one that was going to be called Rocketman? Yup. Remember also how we postulated possible candidates for the role of young Elton? Well, according to The Scottish Sun, we were WAY off with our predictions…
James McAvoy "is favourite" to step into the large platform shoes of the flamboyant musician… although nothing has been absolutely confirmed yet. Repeat: he may be considered to be the frontrunner to bag the lead role, but NO casting has been confirmed as YET.
Tenuous. Very tenuous. Then again, the resemblance is uncanny isn't it? And it's a pretty juicy role for the young actor to sink his teeth into; everybody favours a good biopic at the award ceremonies, after all, and it'll do him good to dust off his acting skills and step away from the 'awkward love interest' for a little bit.
The film doesn't even have a director yet, so we're hesitant to put any stock in these wild McAvoy rumours. All we can tell you is that playwright Lee Hall will provide the script; he worked with Elton on the hit stage adaptation of Billy Elliot, so we know they've got the skills required for mega success.
Who do YOU want to be Elton John? Is it Zac Efron?
About The Author