Will Lea Michele be Tom Hooper's Eponine?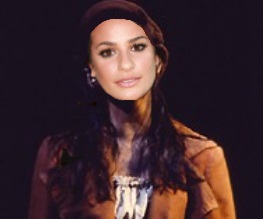 This isn't so much news as it is the fulfilment of dumbing inevitability, but still, it's a Thursday morning – it's nice to take things slowly. After setting the world afire by casting the keen-jawed >Hugh Jackman as lead Jean Valjean in his adaptation of Les Miserables, Tom Hooper immediately disappointed everyone by announcing that Anne 'yawn' Hathaway would be his leading lady. But the thing is, there are three leading ladies in Les Mis – the mopey Fantine (Hathaway), the anaemic Cosette and the lusty Eponine – so hope remained alive. And, surprising absolutely no-one, it looks like Glee's Lea Michele will probably play the lusty one.
She, along with Taylor Swift and Scarlett Johansson recently auditioned for the role of Eponine – the girl who longs for Cosette's lover Marius (Eddie Redmayne) – though no decision has yet been announced. Lea Michele is no stranger to the show, having played young Cosette on Broadway when she was just a wee nipper of 8; and there's no denying she's got the pipes to back it up. But anyone who's watched their Glee (not us, obviously, probably, ITS LIKE BACKGROUND MUSIC ALRIGHT) knows that she's already sung Eponine's solo for the small screen (it's here, if you're interested, which you totes are).
So is Michele's experience with the role a good thing? It certainly demonstrates that she can smash the vocals, but it's not exactly the most refreshing of choices. Then again, if it's between her and Taylor Swift…
About The Author