Woody the Woodpecker headed for Hollywood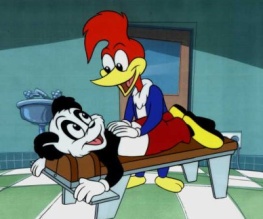 Illumination Entertainment – the studio behind Despicable Me and Hop – is planning a bigscreen version of the cartoon Woody the Woodpecker. Currently in the works for this studio are a film of Dr Seuss' The Lorax and a sequel to Despicable Me (a sequel? What's that? Has anyone ever done one of those before?). Despicable Me was pretty good and who knows, maybe Woody could be our generation's Wall-E. WHO KNOWS.
The TV cartoon tells the story of Woody – an acorn woodpecker, apparently – who goes around being mental. Also, there's a been a film about him before. It was made in 1941, has a 7.2 rating on IMDB and the synopsis is as follows: "The psychiatrist needs a psychiatrist after attempting to treat Woody Woodpecker". BOOM. So we're just thinking, Illumination Entertainment, maybe you should not bother with your film? Woody the Woodpecker has already achieved cinematic perfection.
About The Author