Work finally begins on new Edgar Wright/Simon Pegg flick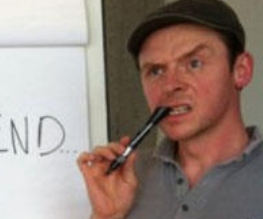 Occasionally, just occasionally, we feel a dull ache of sadness in our very spines – a subtle, ever-present reminder of how long it's been since we were gifted with Hot Fuzz. It's been five years now since the release of the second in what Wright and Pegg have called 'The Blood And Icecream Trilogy', and frankly, we'd begun to give up hope. But NO MORE! The limber-brained twosome have tweeted a picture that promises work HAS BEGUN on the final in the series; a flick entitled The World's End. And… and… that's literally all the information we have.
HANG ON THERE'S LOADS TO BE GLEANED FROM THIS:
1) Both men seem to have a firm grip on the correct use of the apostrophe – proof that their mental faculties are working at FULL TILT
2) Simon Pegg seems to be so hungry he's eating his pen – proof of his dedication to the project and evidence that he's working at FULL TILT
3) Edgar Wright is wearing a hoodie. A hoodie of FULL TILT.
FULL TILT, is it? Leave us your thoughts below!
About The Author