X-Men: Days of Future Past loses Alan Cumming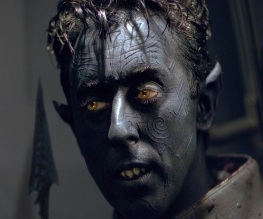 Fans of Nightcrawler, be prepared to start weeping into the nearest cushion. Alan Cumming is not returning for X-Men: Days of Future Past. This is a real shame as Alan and his beautiful German accent were one of the highlights of X2. With a plethora of previous X-Men franchise alumni returning – including Halle Berry, Hugh Jackman, Anna Paquin and Ian McKellen – we're hoping they can still find a gap to shoehorn Cumming into.
Bear in mind though, Alan not returning doesn't mean they can't feature Nightcrawler in some way shape or form. There will be a bit of time-travelling going on in the sequel so the character could still pop up. Failing that, a handy flashback sequence to X2 might work.
In the comics, Nightcrawler is the spawn of Mystique and Azazel, which presents a couple of problems for the film. Jason Flemyng, who played Azazel, has already confirmed that he won't be returning for Days of Future Past. Meanwhile, Oscar-winner Jennifer Lawrence is returning as Mystique. Jennifer Lawrence is also 22, suggesting that director Bryan Singer has no plans to see Mystique get up the duff. Chances are that this is the reason why Nightcrawler has been put on the subs bench for the sequel.
X-Men: Days of Future Past has been scheduled for a July 18 release next year and also stars X-Men: First Class stars James McAvoy and Michael Fassbender. The sequel is said to be inspired by John Byrne's comic book story line that featured the idea of an alternate future where all mutants are hunted by Sentinels – last seen in X-Men: The Last Stand. The Sentinels were created by Bolivar Trask, who will be played by Game of Thrones star Peter Dinklage in Days of Future Past.
Despite Alan Cumming not coming back, there are still a lot of characters signing on for the sequel. The phrase "too many cooks…" springs to mind, but we're hoping to be proved wrong. Work your magic, Singer.
About The Author