X-Men: First Class 2 won't be directed by Matthew Vaughn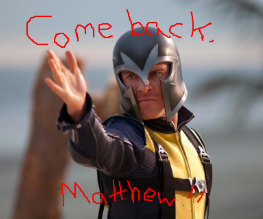 In a game of cosmic switcheroo, Matthew Vaughn has stepped back from directing the sequel to X-Men: First Class into a producer's role, while 20th Century Fox are trying to coax Bryan Singer out from under his bed into the director's chair. Matthew Vaughn wrote the treatment for the sequel to X-Men: First Class, titled X-Men: Days of Future Past, so will still be heavily involved with the project.
In another recent surprise move, Matthew Vaughn also chose not to direct the sequel to Kick-Ass (inventively titled Kick-Ass 2: Balls to the Wall,) handing it instead to Jeff Wadlow (famous for… not a whole lot). It seems as if this is becoming a habit for Matthew Vaughn. Maybe he just likes to keep us on our toes.
As the producer of X-Men: First Class and with a couple of other X-Men titles under his belt, Bryan Singer seems to be the ideal candidate for this time-bending iteration of the popular X-Men franchise. Bryan Singer directed the first two excellent X-Men films, and as far as we're concerned there was not a third. There wasn't, dammit!
The screenplays for the first two X-Men films were written by the voice actor for Solid Snake from stealth game franchise Metal Gear Solid, David Hayter, in a useless bit of trivia you are now permitted to forget.
About The Author