Zoe Aggeliki, Jena Malone and Kevin Nash rumoured for Catching Fire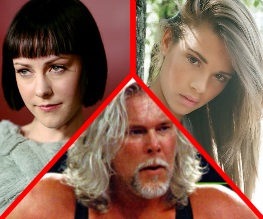 We've given up trying to guess who'll be playing Finnick Odair in Hunger Games sequel Catching Fire (clue: it's definitely not going to be Robert Pattinson) and turned our attention to some of the adventurous female characters who will compete with Katniss Everdeen for the title of Most Badass-Yet-Attractive Woman in Panem.
Remember Johanna Mason? She's the axe-wielding exhibitionist from District 7 who makes her first appearance in the book naked but for a pair of slippers, which may explain why a series of beautiful but essentially untested actresses (well, sort-of actresses) are being considered. Jena Malone (Sucker Punch) and Zoe Aggeliki (pretty much nothing ever) are reportedly the front-runners now last week's patently absurd Mia Wasikowska-flavoured rumour has died a death. Seriously, can you imagine Mia trying to pick up an axe? Her tiny baby hands would come straight off like the arms on a Mr Potato Head.
Also thrown into the mix (not as Johanna, thank Christ) is Kevin Nash, next onscreen as terrifyingly manly stripper Tarzan in Magic Mike. The wrestler-turned-actor let slip that he's in talks for a role, and said that he "just pray[s] it's recurring, that he doesn't get killed." Nash's size and physique makes him an obvious fit for quondam District 2 victor Brutus…. there's no nice way of telling him that Peeta (Josh Hutcherson) will kill Brutus in the final act of Catching Fire, is there?
Who can you see playing Johanna? Let us know below!
About The Author