3 Idiots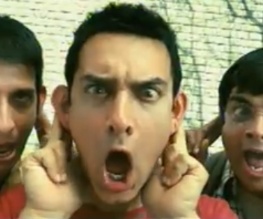 With the recent box-office success of movies like The Hangover and Superbad, it was only a matter of time before the bromance genre spread from the sets of Hollywood overseas. Now India is giving it a try, with this screen adaptation of Chetan Bhagat's novel centring around two college friends on a journey to find their vanished buddy. But this film has a little more heart than your average drunken-exploits-and-fart-humour college romp. Starring local sensation Aamir Khan and with visionary director Rajkumar Hirani at the helm, 3 Idiots is an amusing and touching Bollywood twist on the now familiar man-love theme, and a worthy commentary on the Indian education system as well. If you're a lover of Bollywood cinema, it's a must-see – the Indian press has already touted it as a modern classic.
Life's about the journey
University students Farhan (Madhavan) and Raju (Sharman Joshi) embark on a quest to track down pal Rancho (Khan) – an irrepressible free spirit who touched and altered both of their lives. As their journey moves from one mishap to the next, Farhan and Raju fondly recall Rancho's escapades, including his romance with the beautiful Pia (Kareena Kapoor) and occasional clashes with oppressive mentor, Viru Sahastrabudhhe (Boman Irani). One day without warning, Rancho disappears without trace, leaving a huge void in all of their lives. Farhan and Raju vow to track down their missing friend and learn his reasons for vanishing.
All work and no play
As well as the usual rollicking soundtrack, arresting cinematography and lighthearted comedy you expect from a Bollywood film, revered director Hirani (also responsible for the screenplay) delivers a clever commentary on the Indian attitude towards study and work. Despite being slightly oddly cast as a college student, 44-year-old Khan shines as the third idiot in the boys' trio, who teaches them that their young lives should be about more than good exam marks and their parents' expectations. It might not be a novel idea for us navel-gazing twentysomethings here in the West, but it's obviously an important lesson for the millions of Indians who descend on both local and international institutions yearly with the weight of their family's financial investment and future sitting heavily on their shoulders.
Bollywood cinema aficionados will obviously get the most out of Hirani's tale, but for the newly initiated, it's one of the less flashy and more intelligent films the genre has produced in the last 10 years. If you're looking for a unique cinema experience amongst the more mindless of January's cinema offerings, this could well be for you.
Are you a Bollywood nut who loved this movie as much as you hoped? Or a novice who enjoyed it more than you thought you would? Leave your comments below.
About The Author