It's A Wonderful Afterlife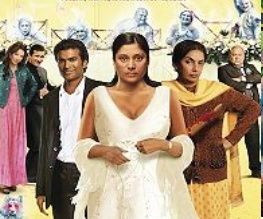 Curry, serial murdering, romantic comedy and zombie spirits suffocated by Nan dough – what on earth can go wrong? Bend It Like Beckham director Gurinder Chadha certainly serves up a comical and unique enough dish with It's A Wonderful Afterlife, but it may be at the expense of anything vaugely resembling logic. There are so many bizarre twists and turns to this tale, that once consumed you can't help wonder if you're left with anything except indigestion.
Bollywood meets horror?
Fast-rising cop DS Murthy (Sendhil Ramamurthy) transfers back to his home turf to work under DI Smythe (Mark Addy) and help solve a spate of bizarre murders in the local Indian community. While meeting residents, Murthy runs into childhood friend Roopi (Goldy Notay), with whom he has always shared a spark. Roopi's mother, Mrs Sethi (Shabana Azmi) is delighted – maybe she will be finally able to marry off her overweight, self-conscious daughter. However, there is a problem. Mrs Sethi is the unlikely serial murderer that Murthy is hunting. Having killed all of the people who thwarted her efforts to marry off Roopi in the past, Mrs Sethi is now haunted by their ghosts who, unexpectedly, join forces with the killer to bring together Roopi and Murthy.
Not So Wonderful
It's a baffling concept to begin with, and the strain of forcing it to make any kind of sense blocks out any real comic potential for this film. The opening sequence – where a man's stomach explodes through eating too much curry – sets the weird gross-out comedy tone for the entire film, making it difficult for us to really empathise with any of the ridiculous characters. The addition of the romantic storyline between Roopi and DS Murphy seems tacked on as a means to an end, rather than the heart of the plot. Quite simply, this film doesn't really know what it's trying to do. And neither do we. Is it a horror? No. Is it a full on comedy? No. But it takes a careful hand to blend the genres, and though Simon Pegg did it beautifully with Shawn Of The Dead, Chadha lacks the expertise to guide us through it.
All in all, it's a funny idea, and one that needed to be relegated to a well written sketch, not dragged out for an hour and a half.
Did you find It's A Wonderful Afterlife a treat? Or was it hard to digest? Let us know below!
About The Author