Rock & Chips: The Frog and the Pussycat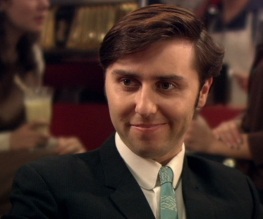 Inevitably this week's airing of Rock & Chips will be overshadowed by the recent passing of the show's creator John Sullivan. Sullivan's tragic death marks the untimely end to a long and prolific career which became largely defined by Only Fools & Horses – a sitcom blessed not only with longevity, but remarkable consistency. However after 7 full series and countless Christmas specials spanning almost 30 years the franchise was eventually to lose momentum in 2005 with The Green Green Grass, a disappointing spin-off which saw periphery character, Boycie, up-sticks and move to Shropshire. Following this perhaps unnecessary excursion to the suburbs, Sullivan was to return to the familiar setting of Peckham in 2009 with Rock & Chips, a feature-length prequel set in 1960 which switched focus to the oft-referenced Trotter matriarch, Joan (Kellie Bright).
Featuring younger versions of the original characters, Rock & Chips chronicles Joan's extra-marital affair with gentleman thief and ex-Navy frogman Freddy 'The Frog' Robdal (Nicolas Lyndhurst). In this latest instalment, titled The Frog and the Pussycat, it's 1961 and Joan dreams of escaping to Bournemouth with Freddy, who is still remains under suspicion for the Margate heist of a previous episode. Meanwhile a young Del-boy (expertly realised by James Buckley), following the advice of a car salesman, is proposing engagement to any and every girl he meets with the prospect of getting laid.
The first two episodes of Rock & Chips fell into the crack between comedy and drama, each being not as funny as the original sitcom, but equally not developing a good enough plot to carry what was a compelling premise. Unfortunately in this respect The Frog and the Pussycat is no different. Joan's affair with Fred is, again, the central thread and, again, it seems to go pretty much nowhere. Like a single, 30 minute sitcom episode Rock & Chips seems frozen in time, and after 60 minutes everything is pretty much the same as it was at the start. More fundamentally this stasis is one that characterises the whole 3.5 hours of the trilogy, the only remarkable event being the birth of Rodney at the end of the very first episode.
Perhaps we've come to expect more from Sullivan who, in the past, has demonstrated particular skill in developing feature-length comedy-dramas that were as touching and purposeful as they were funny. Still, we are occasionally treated to brief glimpses of what could have been with several scenes of classic banter between Del-boy and the gang – there's even a Triggerism that's worthy of the original sitcom. This suggests that even without Rodney the existing cast of familiar characters could have delivered a strong comedy-drama – it at least would have been preferable to the aimless comedy-romance of Rock & Chips.
For sentimental fans of Only Fools & Horses or those nostalgic for 60s South-East London Rock & Chips will entertain, but for those looking for the laugh a minute antics of the original sitcom, a decent drama or an interesting expansion of the Trotter mythos it will disappoint. John Sullivan will rightly be remembered as one of the greatest comic writers of a generation, but not for Rock & Chips which, while not a blemish, is hardly a highlight.
About The Author