Glee – Season One: DVD Review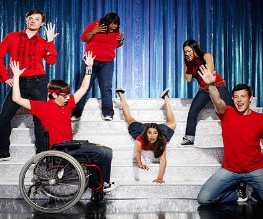 Does the idea of an a cappella "Don't Stop Believing" turn your stomach, or fill it with butterflies? Your answer to this digestive conundrum will probably reveal your attitude to Glee; the US's latest TV phenomenon. Like it or loathe it, there's no denying that Glee – a musical sitcom set in a US high school – has whipped up a storm over the last few months with its catchy tunes, day-glo characters and ridiculously addictive plot-lines. Can you help but sing along?
So, we join Average High School USA, and meet Mr Schuester – a simple Spanish teacher with one dream; to return the school's Glee club to the glory days of yore. Recruiting star-in-the-making Rachel Barry, reluctant jock-turned-singer Finn Hudson, snooty cheerleader Quinn FaBray and a host of others, we navigate the pitfalls of being in the school's most embarrassing club. Can any of the members survive a day without getting a slushee to the face? Can they overcome the ruthless cheerleading coach Sue Sylvester, a woman bent on the club's destruction? Can they all actually sing outside of an auto-tune-tastic studio? We don't know, but despite ourselves, we bloody can't wait to find out.
Glee could easily submit to the danger of cliche and become a fairly dull sitcom, interspersed with some auto-tuned tracks. But the sharpness of the writing, the tongue-in-cheek style and the pure joy of the musical numbers makes Glee a horribly addictive pleasure. The stand out performer is Jane Lynch as Sue Sylvester, whose gloriously inappropriate one-liners perfectly diffuse the sometimes saccharine teen performances. In episode seven, Throwdown, when referring to the diverse group of young singers, Sue takes the opportunity of sounding off,
"OK, when I call your name, come and stand on this side of the black shiny thing,"
"Sue, that's a piano,"
"OK, Santana, wheels, gay kid, asian, other asian, Aretha and Shaft."
Anyone who doesn't enjoy that, no offense, but you have no soul. Those angry by Glee's lack of believability are entirely missing the point. Yes, they burst into song at any opportunity. Yes, Finn believes he can get his girlfriend pregnant by messing around in a hot-tub. And yes, Fox are taking advantage of every possible money-making opportunity. But it's brilliant. Glee, we don't care how you exploit 80s pop classics, we won't stop believing.
Special Features
* Full Length Audition Pieces
* Rachel – "On My Own"
* Mercedes – "Respect"
* Welcome to McKinley!
* Fox Movie Channel Casting Session
* Deconstructing Glee With Ryan Murphy
* Dance Boot Camp
* Repurposed Web VAM
Glee fan or foe? Let us know below!
About The Author