Zebra Crossing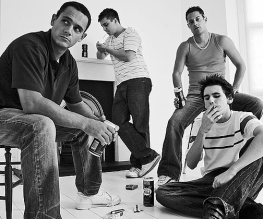 Justin (Lee Turnbull) has got some good friends in Tommy (Greg Wakeham), Sean (Aaron White) and Billy (Kyle Treslove). They're sort of friends that keep you tough, to make sure you can survive life on the estate. They'll look out for you and make sure you have a good laugh every once in a while. The only problem for Justin, is that he wants out. He wants to make something of his life, to get away from the concrete and the violence and the drugs. But that's not going to be easy, particularly when Tommy's drug debts are pulling the group into untold dangers. Just as Justin begins finds solace in an unlikely source, his whole world threatens to falls apart.
This is the first feature length film from Sam Holland, and you can tell it's a project that's been playing on his mind for quite some time. The quality of the direction, from the choice of shot to the use of the setting, is staggeringly impressive for a debut film maker. To date, Zebra Crossing has picked up seven awards from various European film festivals, including the Best Independent European Film Award, as well as scooping the Best Director and Best Actor (Greg Wakeham) awards from the London Independent Film Awards. And all this on a budget of under £1 million.
With a platter of subject matter that includes drugs, gang violence, bare knuckle boxing, self harm and racism, Zebra Crossing sets itself a challenge of telling a well balanced story in 92 minutes. Whilst praise should be heaped upon Holland for his capacity to capture the story on film, it has to be said that there comes a point where story telling gives way to a violent climax. The first act of the film does a wonderful job of introducing us to Justin et al's characters and lifestyles, but the point at which the narrative turns to Justin's escape from the group sees a slight downturn in the quality of the writing. As the pace increases toward the tail end of the film, the quality of the characters' dialogue exchanges diminishes in comparison to the film's opening.
That said, the performances of the cast deserve full attention throughout. The entire ensemble of Zebra Crossing is brilliantly cast, from leads to supporting cast. Greg Wakeham plays a terrifyingly convincing skin head, and one fears that his past life has witnessed far too much hatred (we hope he's just a cracking good actor). Aaron White and Kyle Treslove, despite having less influence over proceedings than Greg and Lee, deliver brilliantly. There's then an endless role-call of small-yet-satisfying appearances, with Kathryn O'Reilly's bed bound Suzanne treating us to a wonderful maternal maturity. My only gripe would be that there isn't enough from the girls.
We should all be excited about the freshness of Zebra Crossing. It tells a nasty story, but it's not an attempt to rub middle class faces in the dirty truths of suburban London. Most of all, we should be excited about the arrival of Sam Holland onto the scene of new British film makers. I'm look forward to his next film, and so should you.
Until then, content yourselves with Zebra Crossing, in cinemas 28th January 2011.
For more on Zebra Crossing, check out our interview with Sam Holland and Lee Turnbull here .
About The Author