Jennifer's Body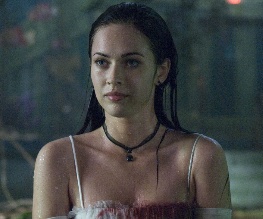 The title of this movie says it all, really. Another in a seemingly never-ending line of horrendous teen slasher flicks, it's  based around the typically stupid premise of a high-school hottie who is inexplicably transformed into a blood-lusting demon. There's only one reason we can think of that any of the movie going public would subject themselves to it – to have a good old perv at Megan Fox, aka said hottie-cum-demon, Jennifer Check.
[FLOWPLAYER=http://uk.clip-1.filmtrailer.com/3005_7099_a_3.flv,275,180]
Granted, Diablo Cody's script adds a small amount of interest for those of the non-16-year-old-boy-with-a-boner persuasion. If anyone could inject some sass, sharpness and originality into the tired teen horror genre, Juno's writer could. And to some extent does. The dialogue certainly crackles with newly-spun, trendy slang which may well make its way into high schoolers' lexicons in months to come – cute boys are described as 'salty morsels', while 'freaktarded' is fairly self-explanatory. But that's where the comparisons to Juno end, really –  the film lacks the heart or discernable message of Cody's first work. It doesn't seem to be trying to say anything much other than, "Wouldn't you like a romp in the hay with this fine-lookin' woman over here? Come on, demon or not, she's sex on legs."
Fox is certainly no Ellen Page in terms of screen presence. She's not that likeable, either. Sure, she looks good with her hair all dishevelled in a bloodstained prom dress, but wouldn't most girls her age given ample access to plastic surgery, personal trainers and the make-up trailer? What young starlets really need to stand out in the skimpily-dressed, ample-bosomed world of teen flicks is some actual charisma, a la Lindsay Lohan (before the coke-induced downward spiral). And in our opinion, Fox ain't got it.
Strip back Cody's snazzy script and this movie really hasn't got much going for it. But we're pretty sure you already knew that going into this review, so we'll tell you what you want to hear. Yes, Jennifer's body is smokin'.
About The Author