Decision Before Dawn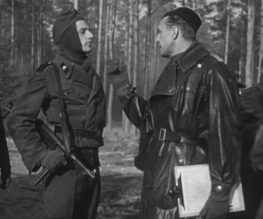 The film is set towards the end of the Second World War, when Germany is near collapse, and Happy (Oskar Werner) and Tiger (Hans Christian Blech) are recruited to gather information for the American allies at great risk to their lives. The tension arises from the Americans' suspicion of the POWs: how much to depend on foreign agents, who are double crossing their own country?
Director Anatole Litvak chose to film Decision Before Dawn on location in postwar Germany due to its authentic background – many of the cities still had areas that had been bombed into rubble and remained unrestored, and there was a lot of actual WWII German military equipment; tanks, rifles, and uniforms, still available. The plot is based in truth, as Allied military did utilize German POWs to return to Germany and spy for them, resulting in a highly believable picture.
Though the Germans Happy discovers are attempting to block out the war, with secret drinking dens where they dance and drink spirits, they can never quite lose it. In one short yet memorable sequence, one of the dancers hops to keep up with the others on her one leg, the other presumably lost to shells or shrapnel. These evocative moments punctuate the action of the film. Children play on statues missing limbs, and the soundtrack is the noises around the city; a scream of a steam engine whistle, the patter of gun fire, and wailing sirens. The absurdity of trying to strategize or organize in such a bleak environment is not lost on Litvak. Happy is desperately looking for a street number, when streets no longer exist, and the Allies' 'official' meetings are held in burnt out buildings. Nevertheless, the Gestapo are depicted as relentless pedants, checking lists as their country is torn apart.
The final shot is of American lieutenant Rennick preparing to leave Germany. Our eyes are immediately drawn to the graffiti on the wall, where a poetic soul has written: "Many a road leads to the Rhine – more roads, to death."
About The Author