17 Again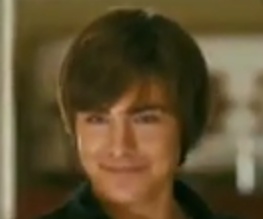 We at Best for Film used to rent smart films from the DVD store. Really, we did. In our late teens, before our own lives had too many real pressures and complications in it, we used to delight in watching those of others dissected in fantastic detail on screen by, say, a Meryl Streep, a Julianne Moore or a Kevin Spacey. These days, we have to admit the prime reasons we rent films are a) to have a legitimate excuse to lie motionless with a bag of Doritos after a heavy Saturday night or b) to be mindlessly transported to a land where there are clean-cut goodies and baddies and the ending is always happy.
Zac Efron and Matthew Perry's new comedy 17 Again perfectly ticks our mindless Sunday afternoon viewing boxes, and it has fun doing it. Perry plays Mike, a middle-aged no-hoper who blames his girlfriend for getting pregnant in high school and ruining his dreams of college basketball stardom. With a little help from a mystic janitor with a knowing wink, he is one day transformed into his 17-year-old self (Efron) for the chance to attend high school once more and fix the mistakes of the past. Of course, by the end of the film he learns they weren't mistakes and he was just being a jackass. Sorry, spoiler alert. But seriously, if you didn't see that one coming, we'd be worried.
Perry and Efron are their usual entertaining if predictable selves, taking us through the well-tested formula with ease. The real scene-stealer is I Love You, Man's hilarious Thomas Lennon as Mike's geeky childhood best friend, who poses as his dad when he's in Efron form and attempts to romance his principal. All in all, it's a pleasantly thought-deadening way to spend an hour and a half, with a few chuckles in between. Break out the Doritos.
Special Features
Zac Goes Back: Meet the Movie's Star Zac Efron
Way Cool Tell-All Trivia Track
Going Back to 17: Castmates Remember Their Own Teen Years
Additional Scenes
Zac's Dance Flashback
Breakin' Character Outtakes
About The Author