Monsters Vs Aliens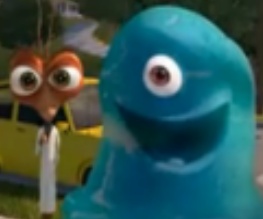 If you're searching for a quick stocking filler this Christmas, Monsters Vs. Aliens is the film for you. It will keep children silent, happy and entertained for the entirety of its 94 minutes, and the 3D glasses that come with it make for excellent Christmas dinner photo ruining.
Of course, if you're looking for a film that will actually withstand the Christmas mayhem and go on to lead a happy, treasured life in your respectable DVD collection, you should probably keep searching.
Oh, it's not that this film is bad. Far from it. As with any Dreamworks film- Shrek, Madagascar,  Shark Tale– the visuals are sumptuous, exciting and basically as spectacular as anything we've seen. The film is full to bursting with A-list voices; Renee Zellweger, Hugh Laurie, Seth Rogen, Paul Rudd, Keifer Sutherland.. the list goes on. The basic premise: aliens are invading, and its up to a group of monsters previously  imprisoned by the government to go and fight them. Cue hilarity.
The problem is that, well, the hilarity never really arrives. And neither does the heart. It's a real shame, because there was a time when Dreamworks produced wonderful things- Shrek and Shrek 2 come to mind, and so does Chicken Run. Marvellous films, and perfect Christmas fodder. However, whether the makers have run out of ideas, or run out patience, their creations lack the sparkle they once had. It's difficult to watch this film without noticing the missed opportunities, the cookie-cutter characters and lazy storytelling.
Actually, forget what we said at the beginning, there's too many wonderful films for kids out at the moment to settle for anything but the best. Look, there's Bolt, right next to it. Buy Bolt instead, it's much better. Well done. Merry Christmas, and a happy DVD collection.
Special Features
Modern Monster Movie Making
Three Never-Before-Seen Deleted Scenes
DWA Music Video Juke Box
Filmmaker Commentary
The Tech of Monsters vs Aliens
About The Author