Gavin and Stacey Season 3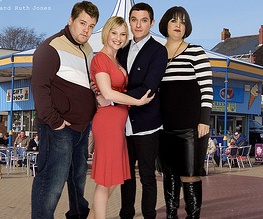 Having won four British Comedy Awards, two Baftas and a South Bank Show award, James Corden's comedy drama Gavin and Stacey is one of the BBC's most well-received comedies of recent years.  The release of season three on DVD marks the end of the award-winning series which has had fans hooked for the past three years.
Gavin and Stacey is a story about a girl and a boy who found each other on the internet, developed a phone relationship, met and got married. In the final instalment of the programme, Gavin and Stacey have moved to Wales. Whilst Stacey is more than happy to back at home, eating omelettes with mum Gwen and uncle Bryn, Gavin feels quite the opposite. As he tries to adjust to life in Barry he finds himself missing his mum and dad Pam and Mick and his best mate Smithy, who also feels lost in Essex without Gavin. Whilst the comedy might be a bit predictable, the Wales/Essex clichés never get old and fans of the series will be more than satisfied with Corden's final offering.
Only two episodes have been shown on TV so far, causing some online fans to criticize the release as being purely to drive DVD sales. Real Gavin and Stacey fans will, however, be rushing to the shops to get their hands on a copy and find out how the story ends. Although the writers of the show were reluctant to make a third series because they felt it might become predictable, it seems they did the right thing in creating this final season and have definitely ended the show on a high note.
Special Features:
No Longer Occurin'
Outtakes
Cast Favourite Moments
Photo Moments
About The Author