How to Train Your Dragon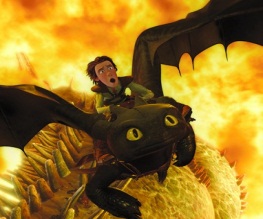 Desperate to prove his Viking mantle in the eyes of his village and chieftain father Stoic the Vast, cynical blacksmith Hiccup tries to earn his place in dragon training by killing the dreaded Night Fury. Using his technical wiles to ground the infamous beast, Hiccup finds himself unable to do the deed and instead finds himself warming to the unexpectedly docile dragon. Naming him Toothless, the two slowly develop a relationship only for Hiccup to find himself enrolled in training anyway. Sure of his inability to kill a dragon, Hiccup must overcome overwhelming odds to convince his village that dragons are not the monsters that they believe them to be.
The thing I love most about DreamWorks' How to Train Your Dragon – aside from the array of positives that will be broached in due course – is how understated it is. Not marketed as a laugh-out-loud comedy or next big thing, How to Train Your Dragon instead arrived in cinemas relatively devoid of hype and therefore unable to rest on its laurels. Earning an incredible 98% on the tomatometer, the stage was set for a DreamWorks movie to champion, a change in direction for the company which had, to date, primarily ripped off superior Pixar releases.
There is no doubt about it, How to Train Your Dragon is Dreamworks first ostensible masterpiece. Combining state of the art special effects with a heartfelt fable of friendship and courage, the movie is more than just the sum of its parts. Comprising a solid – but downplayed – voice cast, a script which favours character humour over carbon-dated gags and a truly inspiring score, How to Train Your Dragon is a timeless coming of age story which escapes cliché on account of its unwavering earnestness.
Although scaled down for DVD, the film remarkably retains its majesty and splendour on the small screen. Infinitely rewatchable, How to Train Your Dragon has a dimensionality which transcends technological advancement, no glasses required. It contains characters which are simply real, a world which is endlessly immersive and a script that is unexpectedly layered, and this will be the case whichever platform on which you choose to watch it. In this vein, I would argue that the DVD is worth purchase even despite its limited special features. A scattering of documentaries and a commentary do little to distract from the decidedly infantile intended audience. That said, with a television spin-off and sequel in the works, we might not have to wait too long for another dose of Berk and its resident heroes: Hiccup and Toothless.
About The Author