Iron Man: DVD Review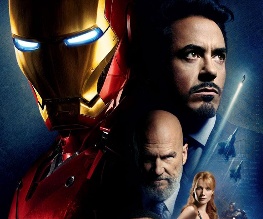 When the announcement was made that the bloke who played Daredevil's mate alongside Ben Affleck's blind superhero, Jon Faverau was to direct Marvel's Iron Man, nobody could have quite predicted it would be the best comic book adaptations since Bryan Singer's X2.
Essentially Iron Man tells the story of Tony Stark (Robert Downey Jnr), the genius CEO of Stark Industries, a company whose primary focus is the manufacture of weapons for the American military. After demonstrating a formidable new weapon, the Jericho missile, Tony's convoy is attacked and he is captured by terrorists' hell bent on using his weaponry to fulfil their goals. Through a sequence of events during his captivity, Stark creates a mechanical suit that helps him escape captivity. Once back on American soil, aided by his closest friends James 'Rhodey' Rhodes (Terrence Howard) and Pepper Potts (Gwenyth Paltrow), Stark upgrades his original suit and decides to fight against the tyranny his weapons have helped cultivate.
Iron Man is literally one of the best comic book adaptations to have been released and a ust have for any fan's DVD collection. In addition to paying homage to the Iron Man legacy while updating the story for a new generation, Faverau's masterstroke was casting Robert Downey Jnr as Tony Stark. He manages to bring both the required arrogance yet introspective nature of one of the comic book world's most troubled heroes. Amply supported by a strong cast, of which Jeff Bridges stands out, Iron Man was worth the price of admission in the Cinemas and is definitely a worthy addition to your DVD collection.
Special Features
Deleted Scenes
Making of Featurettes
The History of the Character
About The Author