Peeping Tom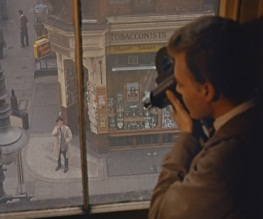 Ravaged by critics upon its original release, Peeping Tom tells the story of Mark Lewis (Carl Boehm), a voyeur who makes amateur "snuff" films on his days off from Pinewood Studios, where he works as a focus-puller. After arousing police suspicion when two of his murders are linked, and unwittingly developing a relationship with unsuspecting tenant Helen (Anna Massey), Mark prepares to end the investigation on his own terms.
Directed by Michael Powell from a Leo Marks script, Peeping Tom's initial controversy has clearly dulled with time. 50 years on, Powell's Hitchcockian aversion to explicit gore and nudity have left this particular taboo looking incredibly tame. Recategorized a 15, even this new rating seems severe considering the film's reserved nature. Evoking comparisons between voyeurism and film-making, Peeping Tom treads many of the same themes as Hitchcock's own Rear Window. Where the comparison breaks down, however, is in the timelessness of each movie's appeal. While reality TV, CCTV and even 'nude X-ray' continue to blur the line between technology and voyeurism, the film is nevertheless very much a product of its time.
Undoubtedly a cult favourite, the question is whether or not Peeping Tom is in fact a masterpiece. Championed by individuals such as Martin Scorsese, the critical opinion has U-turned from universal disdain and disgust to overwhelming acclaim. While the colour pallet is striking – even more so now that the print has been digitally restored – the plot's reliance on Cod psychological motives and detective incompetence stretches suspension of disbelief a little too far.
Furthermore, the characters are ubiquitously overacted. While I have always had a problem with unrealistic reaction – the apparent indifference with which a swarm of killer crows are greeted in Hitchcock's The Birds will forever irk me – and accept that norms have inevitably shifted, Peeping Tom fails to make much of an impact even after accounting for the 50 years that have elapsed since its initial release and the desensitisation that has undeniably occurred in the meantime.
Although the film can indeed be savoured on a technical level, and while the restoration has undeniably returned the movie to its former glory and beyond, it remains unclear just what all of the fuss might have been about in the first place. There is of course a wealth of interest in questions of voyeurism and its place in the making and watching of film, however as a piece of entertainment that asked you to follow one bizarrely accented serial-killer as he records his victims in the final throughs of life, Peeping Tom just isn't the masterpiece it purports to be.
About The Author