Revolutionary Road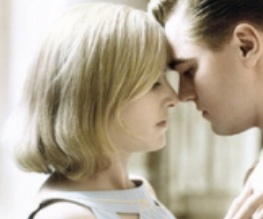 Based on the Richard Yates novel of the same name, Revolutionary Road is a poignant, heartbreaking and piercing look into what makes up a relationship, and how it is that deep love can turn to hatred.
Happy Families
Set in the 1950s, Revolutionary Road centres on the relationship between Alice (Kate Winslet) and Frank Wheeler (Leo DiCaprio); a married couple in their late twenties. Seen as the shining example of wedded bliss by their friends and neighbours living on Revolutionary Road, they have two children, a secure future and a beautiful home. But beneath their flawless exterior both Alice and Frank feel as though their lives are being wasted. Frank works all day at a job he hates, sure that he has untapped genius that is being left undiscovered. Alice once had dreams of becoming an actress, but it seems that – as we see in the opening scenes – her talent never really matched her ambition. Both are deflated, frustrated, and terrified that they have run out of chances. They are growing apart, Alice harbors deep resentment for Frank's lack of belief in her, and Frank has begun turning to other women for comfort.
New Beginnings
Everything changes when one day, Alice proposes the family moves to Paris for a new start. She will get a secretarial job, and Frank will finally be free to read, to write, to have those great thoughts both of them are so sure are within him. Their friends and colleagues think they're crazy, but they revel in the limitless freedom of the idea. Finally, they think, they will live again. Alice is deliriously happy at the idea that Frank will finally have the future he has always deserved, and the idea that she will get back the man she married. But when Frank is suddenly offered a big promotion, his once-menial job doesn't seem so menial anymore. Frank has to decide what is most important to him and to his family, and the weight of the decision threatens to tear the couple apart.
This is a beautiful film, assuredly directed by Sam Mendes, who is no stranger to maneauvering through the subtleties that make up a relationship. DiCaprio and Winslet shine in their measured performances of two people on the brink of both bliss and despair, and thanks to a brilliant and faithful screenplay by Justin Hythe every scene feels heartbreakingly real, every character satisfyingly rounded. A special mention must also go to Michael Shannon, whose portrayal of Robert – a tortured, unstable but ultimately painfully observant visitor to the Wheeler home – is achingly brilliant. Like a herald of doom, he drags the truth into the domestic lie the couple have worked so hard to create for themselves, whipping up a climax that will have you gripped to the seat until the very end. Unmissable stuff.
Special Features
Lives of Quiet Desperation: The Making of Revolutionary Road
Deleted Scenes
Interviews with DiCaprio and Winslet
What did you think? A revolution, or have we all been down this road before? Let us know below!
About The Author