The Lost Bladesman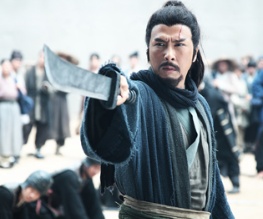 Based almost two thousand years ago, The Lost Bladesman tells the story of Guan Yu – a master fighter who played a huge part in the civil war that led to the collapse of the infamous Han Dynasty. Dealing with personal fate, power and rebellion, The Lost Bladesman is told through impressive style and fittingly epic visuals.
The films opens with the grand burial ceremony of Guan Yu (Donnie Yen) before flashing back twenty years to a camp where he is being held prisoner by warlord Cao Cao (Jiang Wen), who is determined to keep Guan Yu as his own warrior, offering him gifts for his loyalty. With no luck, Cao Cao orders Guan Yu's release with strong opposition from his own men, fearing that he would be a threat. But during Guan Yu's journey back to his sworn brother Liu Bei, he must cross five passes and slay six generals as he encounters numerous confrontations with Cao Cao's men. Within this storyline there is a continual struggle in Guan Yu, who is a warrior that is ultimately desperate for peace.
From the outset of The Lost Bladesman it is obvious that, like many larger-budget films in Hong Kong action or wuxia cinema, the visuals are stunning with a wonderful aesthetic that really captures the mysticism of Guan Yu's ancient story. There is a great interchange between the warrior Guan Yu is, and the man he wants to be, which provides much of the dramatic conflict in the film. The young fiance of Liu Bei, Qilan (Betty Sun), stands as Guan Yu's object of desire and travels alongside him throughout the film, providing an unexpected twist at the end of the film.
The downpoint of The Lost Bladesman is certainly that the story is ripe for a trilogy; at points it seemed that Mak and Chong were trying too hard to cram the action into the film's 107 minutes, and as a result the story is rather uncontextualised. Offering barely any background knowledge of the civil war or the feud between Emperor Xian and Dong Zhuo, the film is really just one man's story against a backdrop of unexplained battles and assasination attempts, which is a shame because the actual story is a fascinating one.
For those who are unfamiliar with Hong Kong action or martial arts movies, I would not claim The Lost Bladesman to be the best. But once you get past the insane complicated web of names, warlords and civil war movements – it is a well acted, beautifully crafted film with a solid storyline that will certainly keep you entertained.
What did you think of The Lost Bladesman? Comment below please!
About The Author